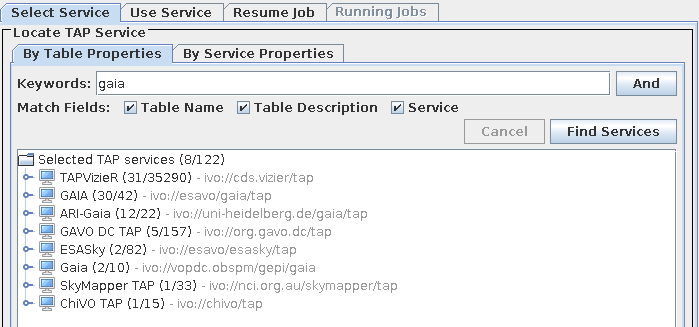 The VO Registry lets people find astronomical resources (which is jargon for "dataset, service, or stuff"). Currently, most of its users don't even notice they're using the Registry, as when TOPCAT just magically lists what TAP services are available (image above) – but there are also interfaces that let you directly interact with the registry, for instance GAVO's WIRR service or ESAVO's Registry Search.
Arguably, the usefulness of the Registry scales with its completeness. With sufficient completeness, the domain-specific, structured metadata will also make it interesting for generic discovery of astronomical data; in a quip, looking for UCDs in google will never work quite well – and without that, it's hard to find things with queries like "radio fluxes of early-type stars".
Either way: If you have a data set or a service dealing with astronomy, it'd be great if you could register it. To do this, so far you either had to set up a publishing registry, which is nontrivial even if you have a software that natively speaks a protocol called OAI-PMH (DaCHS does, but most other publishing suites don't) or you could use one of two web interfaces to define your resource (notes for a talk on this I gave in 2016).
Neither of these options is really attractive if you publish only a few resources (so the overhead of running a publishing registry looks excessive) that change now and then (so using a web browser to update the resource records again and again is tedious). Therefore, GAVO has developed purx, the publishing registry proxy. We've officially announced it during the recent Southern Spring Interop in Santiago de Chile (Program), and the lecture notes for that talk are probably a good introduction to what this is about.
If you're running VO services and have not registered them so far, you probably want to read both these notes and the service documentation. If, on the other hand, you just have a web-published directory of files or a browser-based service, you probably can skip even that. Just grab a sample record (use the one for a simple browser service in both cases) and adapt it to what's fitting for your website. Then put the resulting file online somewhere and paste the URL of that location on purx' enrollment service. In case you're uncertain about some of the terms in the record, perhaps our crib sheet for metadata we ask our data providers for will be helpful.
There's really no excuse any more for not being in the Registry!